BLACK FRIDAY DEAL: BUY a 8oz Electric File Oil and GET a 1oz Electric File Oil FREE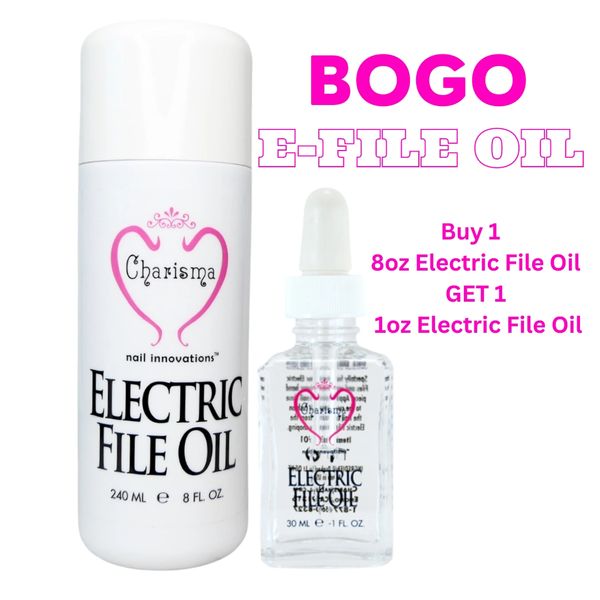 BLACK FRIDAY DEAL: BUY a 8oz Electric File Oil and GET a 1oz Electric File Oil FREE
DO NOT MISS THIS AMAZING HOLIDAY DEAL! Charisma Nail Innovations Electric File Oil is a must-have on every nail technician's table that used an electric file! During our Black Friday SALE, you will not only get 30% OFF when you BUY 1 - 8oz Electric File Oil you GET 1 - 1oz Electric File Oil in a glass bottle with dropper top FREE with purchase!
Works great on acrylic and gel. It should only be used after the application and never to prepare the nail for product application. It can also be used for natural nail manicures to help clean up the cuticle with Charisma's Tapered Finisher Buffer Diamond Bits. Can be used with Diamond bits or Sanding Bands for shaping and refining.

E-File oil Benefits
- Significantly reduces airborne dust during filing.
- Non-absorbent therefore it protects the cuticle and surrounding tissue by limiting contact with product particles that may cause allergies or contact dermatitis.
- Aids in preventing friction which reduces heat and prevents tissue damage or cuts.
- Helps to control filing and maintain contact with the surface of the nail which prevents injury and ensures seamless product adhesion.
- Reduces service time.

Electric File Oil was introduced into the nail industry in 1996. It was created by Charisma's founder Lysa Comfort. As the leading electric file expert in the nail industry, Lysa developed a system of electric filing that was focused on using a machine safely and without pain. Electric File Oil is designed to reduce heat and friction which causes the most discomfort associated with "drilling". Electric File Oil also protects the cuticle and skin, preventing cuts and irritation. Electric File Oil is also great for reducing dust.