BLACK FRIDAY DEAL: BUY a Charisma Nail Charming Colors Créme Gel 15-piece Kit GET a Gel Sealer & a Gel Base Coat FREE with purchase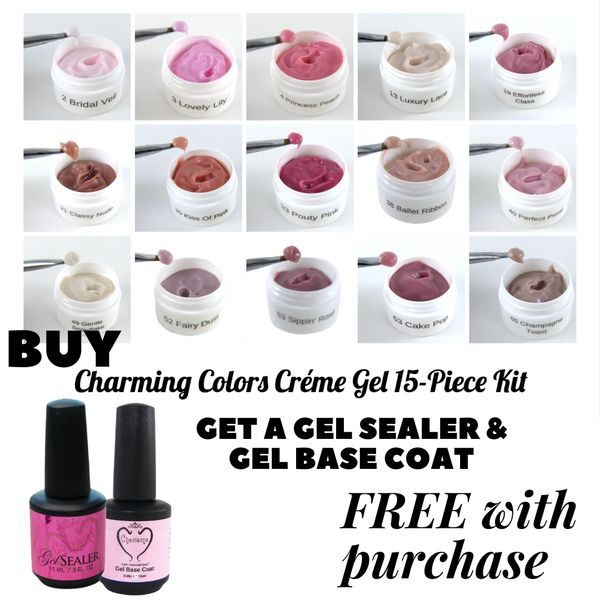 BLACK FRIDAY DEAL: BUY a Charisma Nail Charming Colors Créme Gel 15-piece Kit GET a Gel Sealer & a Gel Base Coat FREE with purchase
DO NOT MISS THIS AMAZING HOLIDAY DEAL! Charisma Nail Innovations Charming Colors Créme Gels are the NEWEST addition to our line and we are obsessed! During our Black Friday SALE, you will not only get 30% OFF the 15-piece kit but you will also receive a Charisma Gel Sealer Top Coat AND a Charisma Gel Base Coat for FREE with purchase! You will never want to use another high-shine no-wipe top coat again after you see the stunning shine and durable wear of our top coat. Our Gel Base is the perfect addition to your gel and gel polish services, creating a long-lasting base that improves the longevity of your product and allows it to apply silky smooth with a simple stroke. These two items have a $29 value!
This creamy, silky soak-off gel will be your new favorite go-to product! Cured under a UV or LED light, Créme Gels by Charisma Nail are easy to work with and can be used with several applications. Apply ultra-thin with a brushing application and achieve the appearance of Gel Polish. Apply with a thicker application and build the product up to use these versatile Créme Gels to create elegant extensions with either a C-Curve Tip or sculpted with a Gel Form. This product does not flood, preventing any excess product from self-leveling into your client's proximal or lateral folds. Make sure to remove any product that has made contact with the skin before curing. Our Créme Gels do require a gel cleanser to remove the tacky layer before filing but both styles of application will achieve a long-lasting, durable finish. Finish with a Gel Sealer. Unlike many other gel products, the gel itself leaves practically no sticky residue behind on your hands or brush! Apply using a nylon Gel Brush.

With ALL 15 stunning and classy colors to choose from in this one kit, you are bound to find the perfect color for every client! 
15 - 1/2oz COLORS: 
#2 Bridal Veil
#3 Lovely Lily
#4 Princess Peach
#13 Luxury Lace
#19 Effortless Class
#21 Classy Nude
#30 Kiss Of Pink
#33 Pouty Pink
#38 Ballet Ribbon
#40 Perfect Petal
#49 Gentle Snowflake 
#52 Fairy Dust
#53 Sippin' Rosé
#63 Cake Pop
#65 Champagne Toast